Miss Aniela is a photographer team based in London UK: producing, shooting, and licensing imagery across the world for commercial, fashion and fine-art.
Who is 'Miss Aniela'?
Aniela' is the middle name of Natalie Dybisz, one half of Miss Aniela Ltd, together with her producer partner Matt Lennard.
Originating as a self-portrait artist in 2006, Miss Aniela's work has been exhibited internationally and featured in numerous media including NY Arts, El Pais, ALARM Chicago, Vogue Italia and BBC.
Miss Aniela's noted SURREAL FASHION collection blurs the boundaries of art, photography and fashion, exhibited by Vogue Italia in Milan and Saatchi Gallery, London.

Model is Annabelle Lyttle. Dress & styling byLeonid Gurevich. Necklaces: Marina Prokopiva, bracelets by Clara Kasavina. Hair by Numi Empire, make-up by Nadine Vendryes Stylist's assistants: Marina Gurevich, Michelle Ortega. Assistants on set: Brent McCombs & Catherine Jolley. Shoot producer: Matt Lennard.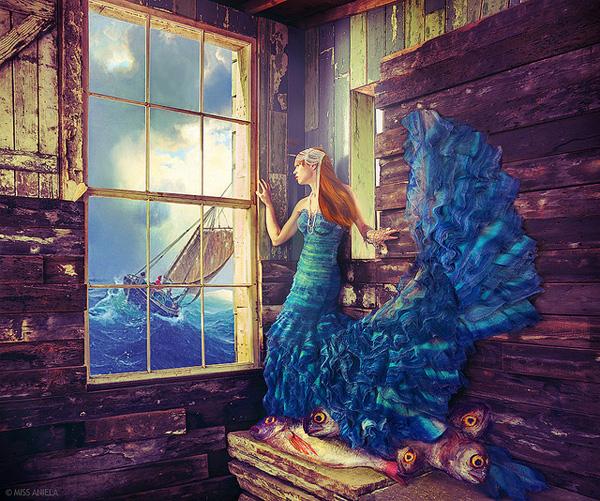 'THE FISHERMAN'S DAUGHTER'… new Surreal Fashion.
'TRAILBLAZER'…
Miss Aniela ;
"Here is Annabelle on the water outside the Hamptons villa during our NY Fashion Shoot Experience. Her dress has gone from a flock of canaries into a strip of flames!Model: Annabelle Lyttle / Dress & styling: Leonid Gurevich / Necklaces: Marina Prokopiva; bracelets by Clara Kasavina / Hair: Numi Empire / Make-up: Nadine Vendryes / Nikon D800E & 70-200mm

This was at the very end of the whole event when we took Annabelle out to 'walk on water' with mostly everyone winding down from their set-ups, coming out to watch or snap pictures! All filmed for the Framed Show – capturing the calamity of this set-up on cam!
In editing, the floating concept wasn't quite enough for me so I sat and stared and waited for further divine/hellish inspiration".

Via : http://www.missaniela.com/
https://www.facebook.com/missanielaphotography/