Remedios Varo Uranga (16 December 1908 – 8 October 1963) was a Spanish-Mexican para-surrealist painter and anarchist.
Remedios Varo was born María de los Remedios Alicia Rodriga Varo y Uranga in Anglès, a small town in the province of Girona, Spain in 1908. Her birth helped her mother get over the death of another daughter, which is the reason behind the name. In 1924 she studied at the Real Academia de Bellas Artes de San Fernando, Madrid. During the Spanish Civil War she fled to Paris where she was greatly influenced by the surrealist movement. She met her second husband (after her death it was discovered that she had never divorced her first husband, painterGerardo Lizarraga), the French surrealist poet Benjamin Péret, in Barcelona. There she was a member of the art group Logicophobiste. Due to her Republican ties, her 1937 move to Paris with Péret ensured that she would never be able to return to Franco's Spain. She was forced into exile from Paris during the German occupation of France and moved to Mexico City at the end of 1941. She died at the height of her career from a heart attack in Mexico City in 1963.
Remedios Varo's most famous works include 'La Revelación o el Relojero' (The Revelation or the Watchmaker), 'Exploration of the Source of the Orinoco River', and 'Vampiros Vegetarianos' (Vegetarian Vampires).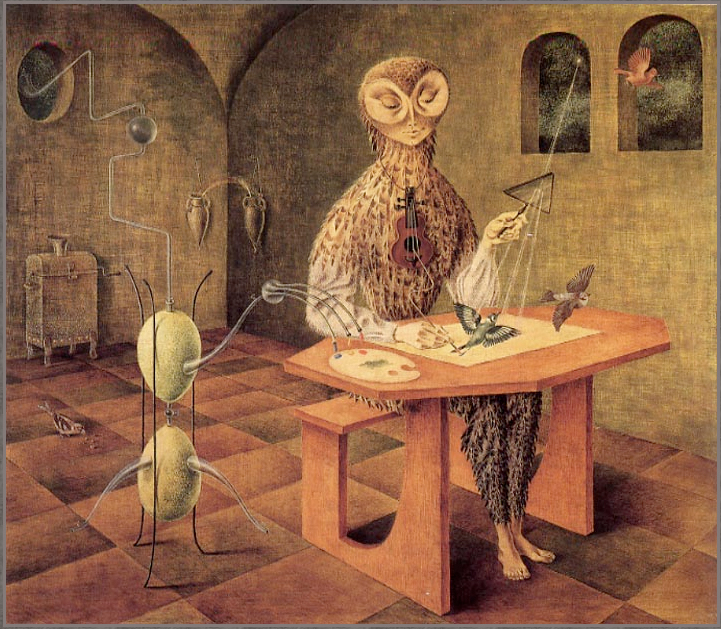 Via : https://en.wikipedia.org/wiki/Remedios_Varo
Please follow and like us: