The 10 Female Artists You Need to Know.
Louise Élisabeth Vigée Le Brun (French, 1755–1842)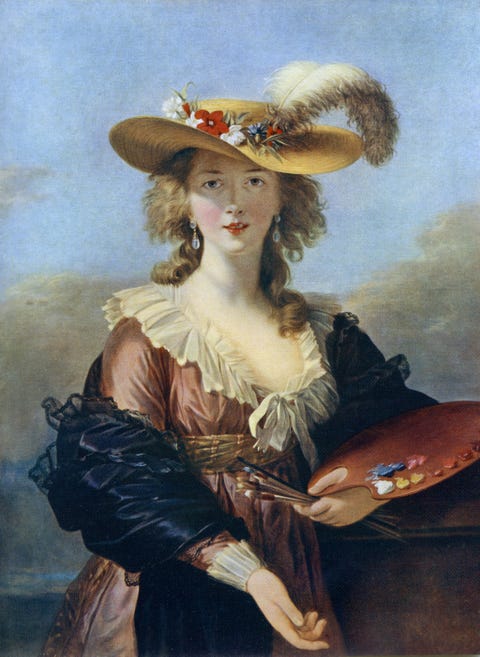 Completely self-taught, Louise Élisabeth Vigée Le Brun became an artist despite major obstacles (as with any woman in late 18th-century Paris) and was active during some of the most turbulent times in European history. With the intervention of Marie Antoinette, she was admitted into the French Academy at the young age of 28 as one of only four female members. Vigée Le Brun was particularly praised for her sympathetic portraits of aristocratic women, deemed more natural than the works of her contemporaries. Forced to flee Paris during the Revolution, the artist travelled throughout Europe, impressively obtaining commissions in Florence, Naples, Vienna, Saint Petersburg, and Berlin before returning to France after the conflict settled.
Pictured: Self Portrait in a Straw Hat, 1782
Mary Cassatt (American, 1844–1926)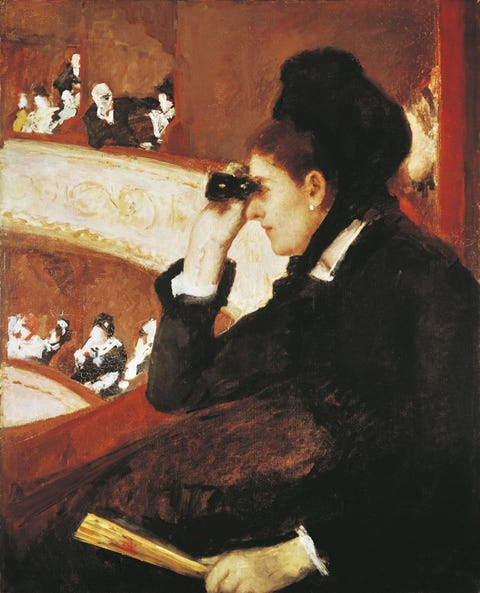 One of three female artists and the only American officially associated with Impressionism, Mary Cassatt was also an invaluable advisor, helping introduce European art to major collectors in the United States. Cassatt strongly believed that painting needed to reflect modern life. Her modern woman is expertly rendered in the 1878 painting In the Loge, the first Impressionist work the artist exhibited in the United States. Many male artists had depicted women in theater boxes as objects of display, but Cassatt's female protagonist plays a dynamic role engaged in the act of looking. Nonetheless, the male gaze prevails as in the distance a grey-haired theatergoer stares directly at her with his own binoculars. As viewer and onlooker, we complete the circle.
Pictured: In the Loge, 1878, MFA Boston
Georgia O'Keefe (American, 1887- 1986)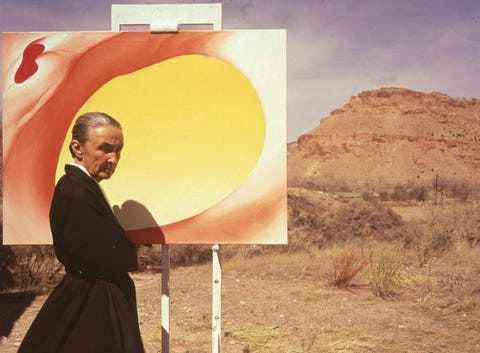 A seminal figure of American Modernism, in 1915 Georgia O'Keeffe was one of the very first American artists to produce a purely abstract work of art, in contrast to the dominant movement of American realism. In Music, Pink and Blue from 1918, O'Keefe abstracts a floral subject with extreme cropping, producing an archway of colorful petals that hum with a musical energy suggested by the title. The theories of Russian artist Wassily Kandinsky in part inspired O'Keeffe to explore "the idea that music could be translated into something for the eye," to achieve pure expression free of other external references.
Pictured: O'Keeffe posing with Pelvis Series Red With Yellow in Albuquerque, New Mexico in 1960
Frida Kahlo (Mexican, 1907-1954)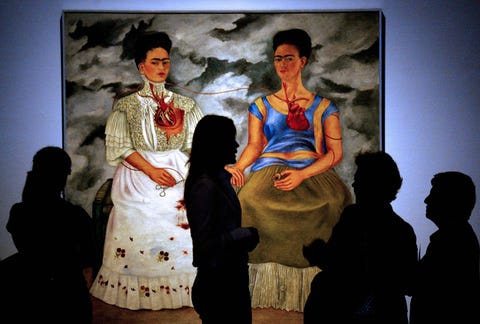 Frida Kahlo's fierce self-portraits featuring her iconic bold unibrow and mustache were once described by André Breton, the founder of Surrealism, as "ribbon[s] around a bomb." Indeed, Kahlo's paintings are simultaneously seductive and confrontational. In The Two Fridas (Las dos Fridas) from 1939, completed shortly after Kahlo's divorce from Mexican muralist Diego Rivera, Kahlo depicts her two personalities—one in traditional Tehuana costume with a broken heart, and the other in modern dress, independent, with a full heart. Kahlo's constant remaking and layering of her own identity was an important predecessor to identity politics, and continues to inspire artists today.
Pictured: The Two Fridas (Las dos Fridas)on display in 2007
Helen Frankenthaler (American, 1928-2011)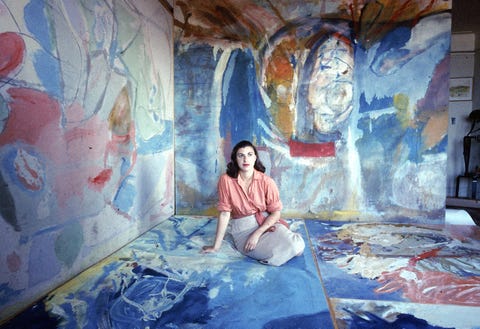 Helen Frankenthaler's breakthrough "stain" painting Mountains and Sea from 1952 played a pivotal role in the transition from the grandiose gesture of Abstract Expressionism to the flat, meditative forms of Color Field painting. First and foremost a colorist, Frankenthaler poured cans of paint onto raw canvas, allowing the material to soak into the support, forming amorphous shapes. As a woman of Abstract Expressionism, Frankenthaler broke through the masculine-dominated movement and let her own unique artistic voice be heard. Her work is currently part of a long overdue exhibition titled the "Women of Abstract Expressionism," which opened at the Denver Art Museum in June 2016 and will travel to the Mint Museum in Charlotte and the Palm Springs Art Museum.
Pictured: Helen Frankenthaler c. 1956
Judy Chicago (American, B. 1939)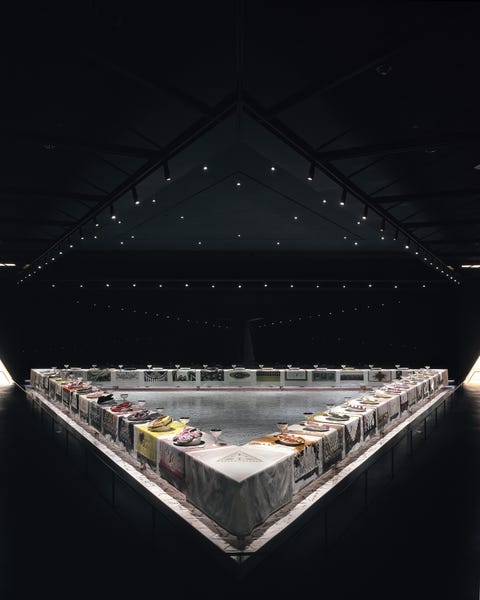 With her own homage to the notable women of history, feminist artist, author and educator Judy Chicago went considerably further back in time than late 18th-century Paris. In The Dinner Party from 1974-1979, Chicago produced an iconic installation commemorating 1,038 women in history, with embroidered entry banners, an engraved floor and a massive triangular banquet table of place settings for 39 women, with guests ranging from the Primordial Goddess to Georgia O'Keeffe. Currently housed in the Sackler Center at the Brooklyn Museum, the installation is a centerpiece of feminist art, produced during a pivotal period in the 1970s when female artists tackled issues of gender head-on.
Pictured: The Dinner Party, 1974-1979, Brooklyn Museum
Agnes Martin (Canadian, 1912-2004)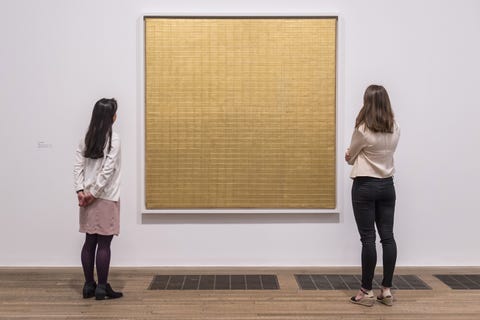 Agnes Martin, often associated with the minimalist movement, existed in a league of her own and defies easy categorization. Intensely private and spiritual, Martin explained that her paintings came to her fully formed, the size of postage-stamps, which she would translate onto large-scale canvases. A glistening gold icon, Friendship from 1963 is fabulous example of a seminal grid painting by the artist. Martin's delicately incised lines, seemingly perfect yet upon close inspection imbued with the sense of the human hand, produce an infinite field with a mysterious quality—the embodiment of a transcendent calm. A retrospective of Martin's work opens at the Guggenheim in New York in October 2016.
Pictured: Friendship on display at the Tate Modern in London in 2015
Sturtevant (American, 1924-2014)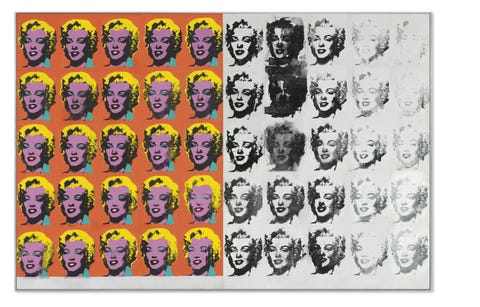 Christies Images/Bridgeman Images
The works of Elaine Sturtevant (known by her surname) cause a double-take; what at first looks like a painting by Andy Warhol or Jasper Johns is actually her own work, appropriating the forms and techniques of the original to a disturbing degree of accuracy. Since 1964, Sturtevant has appropriated the work of her male contemporaries to question the hierarchy of gender, originality and authorship, as well as the structures of art and culture. In fact, Warhol even acquiesced to let Sturtevant use his screen-maker to produce the same Marilyn screen that he used in his own work. As Sturtevant recalls, when Warhol was asked the details of his process he would tell people to "ask Elaine."
Pictured: Warhol Diptych, 1973, sold by Christie's in 2015 
Yayoi Kusama (Japanese, B. 1929)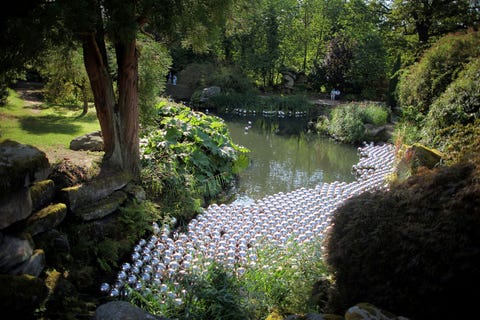 The queen of the polka-dot, Yayoi Kusama was a significant force of the avant-garde art scene in the 1960s and continues to push the boundaries of art-making—even into fashion through her recent collaboration with Louis Vuitton. Her "happenings" during the 1960s were groundbreaking, in particular Narcissus Garden of 1966, which the artist performed on the world stage at the Venice Biennale. Funded by fellow artist Lucio Fontana, Kusama gathered 1500 silver balls—three-dimensional polka-dots—on a lawn and offered them for sale to visitors for 1,200 Lira ($2 dollars) each, as a critique of the commercialism of the art world.
Pictured: Narcissus Garden on display at Chatsworth House in Chatsworth, England in 2009
Adrian Piper (American, B. 1948)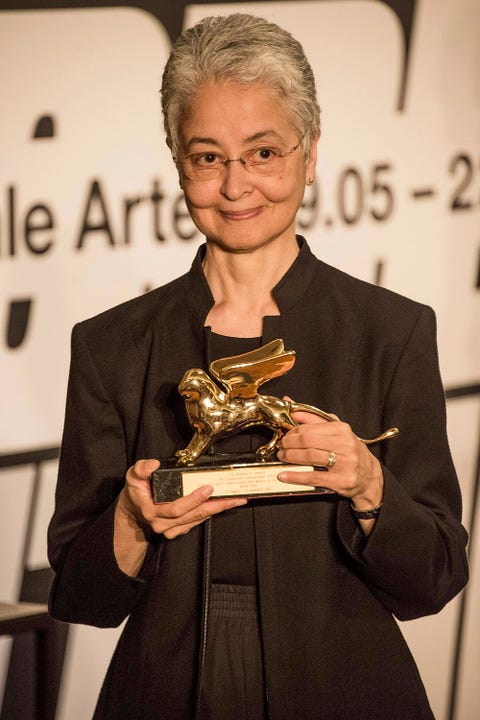 "Dear Friend/I am black./I am sure you did not realize this when you made/laughed at/agreed with that racist remark," reads Adrian Piper's My Calling (Card) #1 from 1986-1990. A conceptual and performance artist, Piper is a trailblazer for addressing hot-button issues associated with gender and race. In her Mythic Being series, Piper transformed herself into a lower-class black male and walked the streets of Cambridge, exposing the absurdity of society's stereotypes. As a light-skinned black female artist, her confrontational work remains extremely prescient and significant today, pushing us to question societal hierarchy and the perception of identity. Recently, Piper was awarded the Golden Lion Award for best artist at the 56th Venice Biennale in 2015 for her work, The Probable Trust Registry, consisting of corporate-looking kiosks where visitors could choose to sign contracts agreeing to live by a set of rules that encouraged personal responsibility.
Pictured: Piper accepts her Golden Lion Award at the 56th Venice Biennale in 2015
By Kat Widing Via (BAZAAR)

instagram.com/artpeople_gallery, Submit your Artwork and join our artists @
https://www.artpeoplegallery.com/register/ TO BE FEATURED. @artpeople1. #artpeople,@artpeople_gallery